:: BOEKINGS INFO ::

995,00 duo

1295,00 trio ( extra gitarist )

4 tot 5 uur

DEMO
::::::::::::::::::::::::::::::
------------------------------
-------------------------
KIJK OOK EENS BIJ ONZE AANBIEDINGEN
IN THE PICTURE
All Rights Reserved 2010 Geerling-evenementen SAN-v.o.f.
INFORMATIE OVER HET BOEKEN OF INHUREN VAN ALL ROUND DUO.
DUO VOYAGE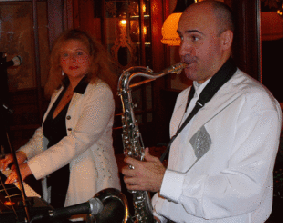 Voyage is gespecialiseerd in het creŽren van de juiste muzikale sfeer voor nagenoeg ieder feest. De zangeres heeft haar eigen originele stijl en kan het publiek met haar passie voor muziek volledig entertainen. Naast de hits van nu komen in het repertoire
uiteraard ook bekende liedjes uit de 60-er, 70-er, 80-er en 90-er jaren, jazz en lounge nummers komen aan bod. Voor verzoeknummers staan ze altijd open. Een van de meest belangrijke regels voor dit duo is de uitstraling van
professionaliteit, stijl en goede smaak. Dit zijn slechts een paar van de redenen waarom voyage regelmatig
wordt geboekt voor optredens in de meest vooraanstaande hotels, restaurants en andere gelegenheden in de Benelux, Frankrijk en Duitsland. Flexibiliteit is natuurlijk ook een belangrijke eigenschap. Indien gewenst kan het duo met 1 of
meer professionele muzikanten worden uitgebreid om te kunnen voldoen aan de verwachtingen van organisatoren van speciale evenementen
Het trio bestaat uit, zang, keyboard en gitaar. Instrumenten die
afwisselend gebruikt kunnen worden zijn zang, Keyboard/toetsen,
klarinet en diversen saxen. Het repertoire is zeer allround en bevat
onder meer nummers van Kenny Rogers, The Eagles, Tammy Wynette, Gloria
Estefan, Lionel Richie, Tavares, Gloria Gaynor, Barry White, The
Carpenters, Everly Brothers, John Denver, Bob Marley, James Brown,
Chuck Berry en vele vele andere topartiesten. Maar ook Nederlandstalig
repertoire wordt niet geschuwd. Zo kunt u genieten van nummers van o.a.
Marco Borsato, Het Goede Doel, Bert Heerink, Vader Abraham, Rene Froger
etc...etc...

prijs

995,00 duo

1295,00 trio ( extra gitarist )

tijd

4 tot 5 uur

Duo Voyage
Nummer Artiest
Achy Breaky Heart - Billy Ray Cyrus
All that she wants - Ace of Base
Als sterren aan de hemel staan - Frans Bauer
Always on my mind - Elvis Presley
Angel - Lionel Richie
Angels - Robbie Williams
Apres ski medley - Koos Alberts
Banger hart - Rob de Nijs
Bailamos - Enrique Iglesias
Blanket on the ground - Billie Jo Spears
Blue - Zucchero & Ilse de lange
Blue Bayou - Linda Rondstadt
Blue Suede Shoes - Elvis Presley
Boney M medley - Boney M.
Brown Eyes Blue - Crystal Gale
Celebration - Gool and the Gang
Conga - Gloria Estefan
Da doo ron ron - Crystals
Dancing queen - Abba
De Regenboog - Frans Bauer / Marianne Weber
Disco inferno - The Tramps
Disco Samba Medley - Two Man Sound
Do that to me one more time - Captain and Tenille
Dream lover - Mariah Carey
Dromen zijn bedrog - Marco Borsato
Drivin' my life away - Eddy Rabbitt
Escape - Enrique Iglesias
Fire - Pointer Sisters
Foxtrot medley - Div. artiesten
From Sarah with love (Dance mix) - Sarah Connor
Geef mij nu je angst - Guus Meeuwis
Going to Ibiza - Venga Boys
Have you ever seen the rain - CCR
Heaven - Do
Heb je even voor mij - Frans Bauer
Hee Baby - The cooldown cafe
Hitmedley - Corry Konings
Hot Hot Hot - Buster Pointdexter
Hou me vast - Volumia
How deep is your love - The Bee Gees
If I said you had a beautiful body - The Bellamy Brothers
If you believe - Sasha
Ik heb de hele nacht liggen dromen - Wolter Kroes
Ik meen het - Andre Hazes
Ik wil met je dansen - Frans Bauer
I like a man - Trisha Yearwood
I'm so excited - The Pointer Sisters
In your eyes - Kylie Minogue
It's so easy - Linda Ronstadt
I've got the music in me - The Kiki Dee Band
I wanne know what love is - Tina Arena
I will survive - Gloria Gaynor
Johnny B. Good - Chuck Berry
Killing me softly - Roberta Flack
Kind of hush - The Carpenters
Kleine cafe aan de haven - Vader Abraham
Lambada - Kaoma
La Isla Bonita - Madonna
Let's twist again - Chubby Checker
Let your love flow - Bellamy Brothers
Leve de lol - Peter Beense
Listen to the music - The Doobie Brothers
Long train running - The Doobie Brothers
Love is in the air - John Paul Young
Lying eyes - The Eagles
Mag het licht uit - De Dijk
Mambo no. 5 - Lou Bega
Maria Magdalena - Dries Roelvink
Mascarade - The Carpenters
My sight of town - Lutricia McNeal
Never can say goodbye - Gloria Gaynor
Ome Jan - Willeke Alberti
Out of reach - Gabrielle
Party time - Peter Beense
Pround Mary - Ike & Tina Turner
Que Sera Sera - Hermes House band
Que si que no - Jody Bernal
Reggae night - Jimmy Cliff
Relight my fire - Dan Hartman
Rise - Gabrielle
Rose garden - Lynn Anderson
Samba Pa Ti - Santana
September - Eart, wind and fire
Sex bomb - Tom Jones
Shoop shoop song - Cher
Someone love you honey - June Lodge
Something Stupid - Robbie Williams& Nicole Kidman
Son of a preacher man - Dusty Springfield
Stand by me - Ben E King
Stil in mij - Van Dikhout
Still got the blues - Gary Moore
Stuck on you - 3T
Stupid Cupid - Connie Francis
Sunrise - Simply Red
Tequila Sunrise - The Eagles
The Locomotion - Kylie Minogue
Together again - Janet Jackson
Top of the world - The Carpenters
Uncle John - Venga Boys
Up where we belong - Joe Cocker & Jenefer Warnes
Vandaag zit ik weer lekker in m'n vel - Wolter Kroes
Viva Holliday - Frans Bauer
Waiting for tonight - Jennifer Lopez
Walsmedley - Div artiesten
We are family - Sister Sledge
We've got tonight - Ronan Keating & Lulu
Whenever, whenever - Shakira
When I die - No Mercy
Who'll stop the rain - CCR
Wonderful tonight - Eric Clapton
You and me - Spargo
You might need somebody - Shola Ama
You're still the one - Shania Twain
You to me are everything - The real thing
You've got a friend - Rene Froger
Zaterdag avond - Mieke
Zij gelooft in mij - Andre Hazes
:: Keuzemenu ::

WIST U DAT U BIJ ONS COMPLETE KANT EN KLARE FEESTEN KUNT BESTELLEN ? Wij leveren u compleet verzorgde feesten op elke locatie in Nederland en Belgie in ieder thema en voor elk budget!


:: BOEKINGEN ::
Geerling evenementen & artiesten

tel 075 614 74 71 / 043 601 0345

fax 075 614 74 72 / 043 601 6252

info@geerling-evenementen.nl


stuur een mail..

DAAROM BOEKEN BIJ GEERLING EVENEMENTEN & ARTIESTEN :
Boeken bij een van de betrouwbaarste buro's
Gratis advies en vrijblijvende offertes
de eerlijkste en daarom zichtbare prijzen
wij zijn een onafhankelijk buro
24 uur per dag bereikbaar
professionele artiesten en faciliteiten
zekerheid van kwaliteit en prijsverhouding
vervanging bij ziekte e.d.
een groot bestand met eigen artiesten, dus minder betalen !
geen zorgen over onaangename verrassingen m.b.t. loonheffingen e.d. Wij zijn uiteraard inhoudingsplichtig.