:: BOEKINGS INFO ::

| | |
| --- | --- |
| prijs | 1650,00 excl BTW |
| tijd | 4 / 5 uur |
::::::::::::::::::::::::::::::
------------------------------
-------------------------
KIJK OOK EENS BIJ ONZE AANBIEDINGEN
IN THE PICTURE
All Rights Reserved 2010 Geerling-evenementen SAN-v.o.f.
INFORMATIE OVER HET BOEKEN OF INHUREN VAN ALL ROUND TRIO

MUSIC UNLIMITED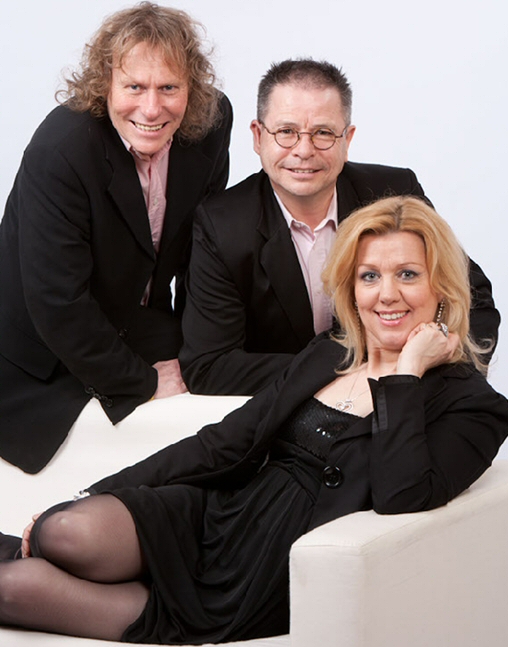 Bij Deze fantastische top band bestaande uit 2-mannen en 1-vrouw, heeft u de keuze uit minstens 250- zeer verschillende nummers. Verzoekjes zijn van harte welkom! Geen enkel genre heeft geheimen voor deze rasmuzikanten die elk feest veranderen in een complete happening en daarmee een onuitwisbare indruk achterlaten!

Lianne (zang)
Deze zeer talentvolle zangeres werkte 10 jaar met een ander trio na op haar 15e in een schoolband te hebben gezongen. Won met talentenjachten veel prijzen waaronder een trip naar Gran Canaria en stond met haar single " Het is voorbij" op de 4e plaats van de Vaderlandse Top 10 van Radio Noordzee. Lianne beheerst elk ander repertoire, van Norah Jones tot Anastacia. In alle opzichten een topper!

Eugθne (keyboards, gitaar, zang, sax en klarinet
Maakte op 17 jarige leeftijd al een LP en werkte na zijn conservatoriumopleiding bij de musicals 'Foxtrot', 'Maskerade' en 'America America' van Jos Brink. Nu is hij tevens muziekleraar aan een muziek- en een basisschool.

Rob (drums, percussie en zang)
Na het Koninklijk Conservatorium drumde Rob bij o.a. 'The Down Town Jazzband', 'Lee Towers' en het 'Mini& Maxi Orkest'. Hij is een veelgevraagd studiodrummer en geeft tevens les bij het Cesar Zuiderwijk Music Station.
| | |
| --- | --- |
| prijs | 1650,00 |
| tijd | 4 tot 5 uur |
Music-Unlimited repertoire

9 to 5 – Dolly Parton
ABBA medley
Ain't that just the – Lutricia McNeal
Air – Bach
Alice – Smokey
Alles – Bas & Tooske
All of me
Alright, okay, you win
Angels – Robbie Williams
Autumn leaves
Beautiful – Christina Aguilera
Be my baby – The Ronettes
Big big world – Emilia
Blame it on the boogie – Jackson 5
Blanket on the ground
Blaue donau
Bliif bij mij – R. Jaccot & Paul de Leeuw
Blijf bij mij – Volumia
Blue bayou – Linda Ronstadt
Blue moon
Blue tango
Bona sera – Louis Prima
Boney M medley
Brown sugar – Rolling Stones
Burgundy Street Blues
Can't get you out – Kylie Minogue
Can't take my eyes– Lauren Hill
Celebration – Kool and the Gang
Champs elysesιes
Come away with me – Norah Jones
Come on over - Christina Aguilera
Conga – Miami Sound Machine
Country roads – John Denver
Crawling up a hill – Katie Melua
Cry me a river – Natalie Cole
Da doo ron ron – The Crystals
Dancing in the dark – Bruce Springsteen
Denis – Blondie
De hoogste tijd – Andrι Hazes
De regenboog – F. Bauer/M. Weber
De vlieger – Andrι Hazes
De winter was lang – Willeke Alberti
Disco Inferno – Tina Turner
Don't go breaking - Kiki Dee & Elton John
Don't it make my brown– Christal Gayle
Don't know why – Norah Jones
Don't leave me this – Thelma Houston
Dream a little dream of me
Een beetje verliefd – Andrι Hazes
Espana Carni
Eternal flame – The Bangles
Even aan m'n moeder vragen – Bloem
Everybody needs somebody – B.Brothers
Fame – Irene Cara
Feel – Robbie Williams
Fine brown frame – Lou Rawls
Fire – Pointer Sisters
Foxy foxtrot – Nico Haak
From the time you say – Vera Lynn
From this moment on – Shania Twain
Gimme some loving – Blues Brothers
Grease medley
Guantanamera – Celia Cruz
Halleluja – Milk and Honey
Hartslag – Ruth Jaccot
Heaven – Do
Heb je even voor mij – Frans Bauer
Hello Marylou – Ricky Nelson
Het is een nacht – Guus Meeuwis
Hey Baby – Cooldown Cafι
Hollandse Medley
Hopelessly devoted – Olivia Newton John
Hot hot hot – The Cure
Hot stuff – Donna Summer
How high the moon
Hurt – Timmy Yuro
I can't give you anything but love
Ich bin wie du – Marianne Rosenberg
I feel lonely – Sacha
I got the music in me – Kiki Dee
I got you babe – Sonny & Cher
I have to say I love you in a song
Ik meen het – Andrι Hazes
I love Rock & Roll – Joan Jett
I'm confessin'
I'm gonna sit right down
I'm outta love – Anastasia
I'm so excited – Pointer Sisters
Into each life
Intuition – Jewel
I save the day – Roberto Jacketti
It had to be you
It's only a papermoon
It's raining men – Weather Girls
It's so easy – Linda Ronstadt
I've found a new baby
I wanna wake up with you – Boris Gardner
I will survive – Gloria Gaynor
I will wait for you – Michel LeGrand
Jambalaya – The Carpenters
Joanna – Eddy Grant
Ketchup song – Las Ketchup
Killing me softly – Roberta Flack
King of the road
Kingston Town – UB 40
Kleine cafι aan de haven – Pierre Kartner
Lady marmalade – Patti LaBelle
La Comparsita
Ladies night – Atomic Kitten
Lambada – Kaoma
Land of 1000 dances
Le freak – Chic
Lemon tree – Fools Garden
Let me entertain – Robbie Williams
Let's get loud – Jennifer Lopez
Let's twist again – Chubbie Checker
Let there be love – Laura Fygi
Listen to the music – Doobie Brothers
Livin la vida loca – Ricky Martin
Locomotion – Kylie Minogue
Long train running – Doobie Brothers
Love
Love and devotion – La Bouche
Love boat
Love is all around – Wet Wet Wet
Love shine a light – Kathrina and the waves
Man I feel like a woman – Shania Twain
Meeste dromen zijn bedrog – Marco Borsato
Memories of you – Benny Goodman
Met de vlam in de pijp – Henk Wijngaarden
Midnight hour
Moondance – Van Morrison
Most beautiful girl in the world – Charlie Ritch
Move your feet – Junior Senior
Natural woman – Aretha Franklin
Neh nanana – Vaya con dios
Nina Bobo
Objection – Shakira
Oh lonesome me – Connie Francis
Ome Jan – Willeke Alberti
On the wings of a nightingale – Everly brothers
Orfeo Negro
Paradise by the dashboard light – Meatlof
Parlez moi d'amour – Vicky Brown
Perfidia – Laura Fygi
Play that funky music – Wild Cherry
Proud Mary – Tina Turner
Que sera sera – Doris Day
Radar love – Golden Earring
Recado
Red red wine – UB 40
Regenboog – Frans Bauer/Marianne Weber
Relight my fire – Dan Hartman
Respect – Aretha Franklin
Rise – Gabriella
Ritme van de regen – Rob de Nijs
Rock & Roll medley
Rock & Roll Music – The Beatles
Rose garden – Lynn Anderson
Save your kisses for me – Brotherhood of men
Second waltz – Andrι Rieux
Sentiment journey – Doris Day
Sentimental reasons – Natalie Cole
Sex on the beach – T-Spoon
Smooth operator – Sade
Some of these days – Brenda Lee
Someone loves you honey – June Lodge
Something beautiful - Robbie Williams
Something stupid – R. Williams & N.Kidman
Somewhere between – The Tumbleweeds
Son of a preacher man – Dusty Springfield
Sous le ciel de Paris – Domino
Stay with me – Vicky Brown
Step right up – Jamai
Stir it up – Bob Marley
Strong enough – Cher
Substitute – Clout
Sunrise – Norah Jones
Sweat – Inner Circle
Tango robar
Tears on my pillow – Johnny Nash
Tenessee waltz
Terang bulan
That's the way – K.C. and the sunshine band
The girl from Ipanema - Astrid Gilberto
There'll never be another you
The road ahead – City to City
The shadow of your smile
The time of my life – Dirty Dancing
Think – Aretha Franklin
Things - Robbie Williams
This is the moment – Renι Froger
This love – Maroon 5
This masquarade – George Benson
Tici Tico Tico
Tide is high – Atomic Kitten
Together again – Janet Jackson
Too close for comfort
Top of the world – The Carpenters
Trini lopez medley
True love – Bing Crosby & Grace Kelly
Twist and shout – The Beatles
Uh lalala – Alexia
Unchained melody – Righteous Brothers
Vaag en stil – Andrι Hazes
Venus – Shocking blue
Walking on sunshine – Kathrina
Wat een heerlijke dag – Wolter Kroes
Wave
We are family – Sister Sledge
Whenever wherever – Shakira
When I get you alone – Thicke
When I need you – Celine Dion
When the rain begins to fall –
Jermaine Jackson & Pia Zadora
When you think of me - Boris
We'll meet again – Vera Lynn
White flag – Dido
Whole Again – Atomic Kitten
Why not me – The Judds
Wonderful tonight – Eric Clapton
YMCA – Village People
You'll never walk alone – Lee Towers
You're no good – Linda Ronstadt
You're still the one – Shania Twain
You've got a friend – James Taylor
Zij gelooft in mij – Andrι Hazes
Zuid-Amerikaanse medley

:: Keuzemenu ::

WIST U DAT U BIJ ONS COMPLETE KANT EN KLARE FEESTEN KUNT BESTELLEN ? Wij leveren u compleet verzorgde feesten op elke locatie in Nederland en Belgie in ieder thema en voor elk budget!


:: BOEKINGEN ::
Geerling evenementen & artiesten

tel 075 614 74 71 / 043 601 0345

fax 075 614 74 72 / 043 601 6252

info@geerling-evenementen.nl


stuur een mail..

DAAROM BOEKEN BIJ GEERLING EVENEMENTEN & ARTIESTEN :
Boeken bij een van de betrouwbaarste buro's
Gratis advies en vrijblijvende offertes
de eerlijkste en daarom zichtbare prijzen
wij zijn een onafhankelijk buro
24 uur per dag bereikbaar
professionele artiesten en faciliteiten
zekerheid van kwaliteit en prijsverhouding
vervanging bij ziekte e.d.
een groot bestand met eigen artiesten, dus minder betalen !
geen zorgen over onaangename verrassingen m.b.t. loonheffingen e.d. Wij zijn uiteraard inhoudingsplichtig.